Descent: Valdez x Ferro
Year of birth: 2009
Color: Brown
Studbook: KWPN
Predicates: Elite Sport D-OC
Stick Size: 174 cm
We bought Emmylou Sollenburg in May 2017 as broodmare. She is a descendant of the stallion Valdez. Her mother is the elite sport preferred performance mare Lady Liwanda. The brothers and sisters of her perform above average in the dressage sport. Her full brother, flexion Sollenburg runs a light tour under Anne Marie Brouwer-Dijkstra. Emmylou is released in the Z2 class and is therefore already in possession of a sport predicate. At the end of May 2017, Emmylou obtained her D-OC predicate. In July, she became a home-approved star with 80 for exterior and 80 for movement. A week later she was promoted to the central inspection in Dronten and thus obtained the elite predicate. On April 27, 2018, Emmylou received a filly, Nilou SNW (v. Desperado).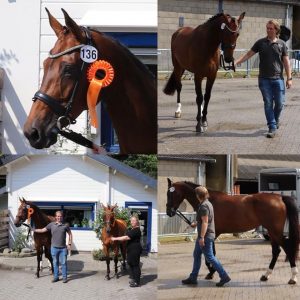 Below you can see a video of Emmylou on the central inspection Flevoland in Dronten 2017. Https://www.youtube.com/watch?v=TAJt6T1SySg